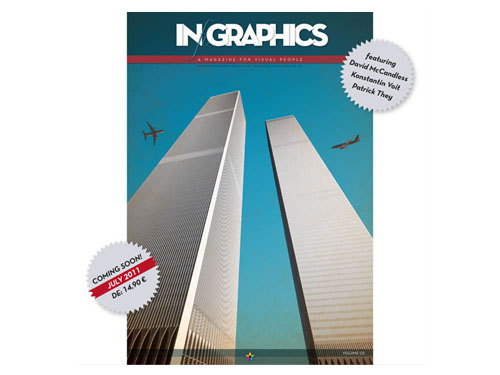 IN GRAPHICS Volume 2
IN GRAPHICS is a magazine published by Golden Section Graphics twice per year as a bilingual edition in English and German. The first issue won 10 national and international design prizes, including a Bronze award from the ADC Germany and a Gold European Design Award in the magazine category. A third issue is currently planned for December 15, 2011.
Not your typical magazine, IN GRAPHICS dispenses completely with the text features and photography that define its peers and consists solely of infographics. Yet the compelling visuals—from hand-drawn to vector graphics—are not only geared toward creatives. The 92-page second issue features a selection of general interest articles including an extensive cover story on the terrorist attacks from September 11, 2001 as their tenth anniversary nears and a look at recent events in Fukushima. A highlight is undoubtedly the two double-page spreads on the building of the Berlin Wall, whose fiftieth anniversary will be commemorated this August. The uniquely detailed 3D graphics document four generations of its construction in their entirety and took almost 2 years to complete.
Contributions by illustrator Patrick They, artist Konstantin Voit, and designer and author David McCandless as well as select business, science and technology, sports, and culture stories round out the informative, entertaining, and attractive editorial offerings. Even the advertisements are done as infographics.
Pre-order your copy via Amazon.de if you're in the EU or via direct order from the online shop of Golden Section Graphics. Read much more information about IN GRAPHICS on its official website. The Magazine is also available at newsstands throughout Germany, Switzerland, and Austria as well as several additional EU countries starting July 8, 2011.