the human's development

Roland Loesslein (weaintplastic.com) created another interactive information graphic. It is called »The Human's Development« and focuses on three aspects of it: health, education and living standard. On a world map and a ranking graph, nearly all nations of the world can be compared to each other. It uses data from the United Nations Development Programme (UNDP) and visualizes trends over the past few years. Plus, the user can take action by joining a GlobalGiving project to help people in less developed countries.
Just like »synoptic«, this application was created during a class about infographics by Prof. Michael Stoll at the University of Applied Sciences in Augsburg, Germany.
CDN: What inspired you?
Roland: I noticed there's information out there I think it's important everybody understands. It's also crucial that the way it's being communicated is understandable for lay people, too. This induced me to watch out for such data that — as I suspected — is only available in the form of tables and rather difficult to be caught up in its entirety. This was a call to wrap it up in a new notation that even those can use and understand who don't usually deal with the details of this subject. Also, I was motivated by the fact that everybody is currently talking about the global financial crisis, but there is another global crisis going on for much longer now and probably will last forever if we don't do something about it.
What were your research steps? Where did you get your data from?
In the beginning it wasn't even clear to me that it was going to be about the human development. I watched out for data that that could be mapped onto a globe, something where information is available for all countries of the world. I found quite a lot of data focussing on environmental or financial issues that hasn't been converted into an easy to understand representation yet. The one I used is about the human development and includes many aspects like health and education but also details about environment and finances, covering many interesting facts. The second step was to filter this found research results for what to visualize. I chose the information gathered from the UNDP and GlobalGiving.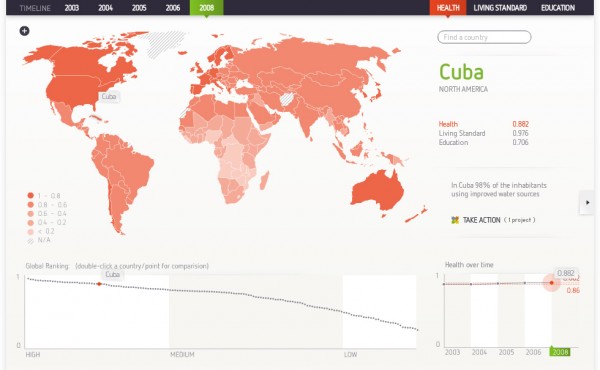 The data you got from them was not formatted the way you could use it directly, I suppose?
That's right, probably because the UNDP has more meaningful things to do than caring about processing and sending information to a student for free, I understand that. So I downloaded some annual reports and squeezed out the necessary raw data by writing my own parser for the tables and tweaking it manually afterwards. The people at GlobalGiving were totally amazed by my idea from the first approach on. Cooperation with them was a bit easier because not only they granted me access to their API, they also invited me to join their research group where I can use the project managing tool and do some brainstorming in the disussion forums. The API is usually for their own purposes only and kind of "private beta", which is why it was still a bit hard to get lots of information out of it. In the end, merely the "take action" link and the number of projects are delivered by GlobalGiving, the rest is by UNDP.
Is GlobalGiving already registering more clicks coming from your app?
My application tracks itself how many clicks the "take action" logo gets. But I can't tell whether there are more people participating in their projects or more donations since it's online. It's a question of trust when you send money somewhere when you don't know where it will arrive. But being too sceptical is old fashioned thinking. GlobalGiving has a very good concept regarding the way of constantly tracking where your money flows. You can choose exactly where it should go and get detailed feedback. I guess it's only a question of time — even I would have to think a few days about it before donating.

Why build yet another tool for visualizing such data when there are already other ones like Gapminder World or CIA's World Factbook?
Sure, Gapminder World visualizes similar facts and figures, but I see it more as a research and analysis tool for people who work with the data. I want to access a different target audience: the layman. The CIA World Factbook has basically the same problem when it comes to adressing people who don't want to know every single detail. It's more like a library that provides so many information so you have to spend very much time to get an comparing overwiev on one aspect. My application has this small newsticker-like notification field which gives the user some hard facts about the chosen country, each in one single sentence. This way, some rather surprising proportions between given numbers are formulated that otherwise are hardly visible, in tables for example.
What tools, programming languages and libraries did you use?
Adobe Flash, AS3, pureMVC, Tweener, Away3D, a database with AMFPHP connection.
How's the feedback until now?
I get lots of mails, also it's nice to see how it's being pushed on blogs and Twitter. I get lots more traffic than with my last project »synoptic« and the average visiting time is very high.
You should follow weaintplastic and colorfuldata on Twitter.